Mobile conversion, Device selection
Automatic distribution by user agent identification
In HeartCore, a device option function is installed as a standard. Through using this option function, user agent identification will become necessary and omit time for preparing script. Contents are automatically distributed depending on the user agent of an accessed device. Although page break down, analysing common parts in CMS and managing efficiently, the device choice is possible for every part in every option, leaving only necessary parts to add content for target devices to be completed. Every part of the device options include: "main contents", "common parts" (such as menu and banner), "template", "style sheet", "script", "image", "file".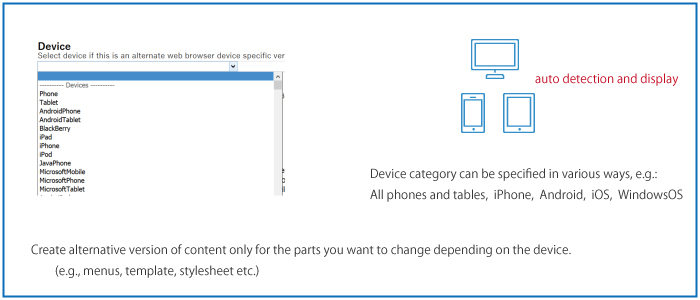 Device specific preview
HeartCore allows users to preview pages on specified devices, there is no need to use browser's add-on simulators.
Related case study
"Access from smartphone increased rapidly just after enabling multi-device correspondence function"- Tokyu Department Store Co.,LTD.