The most important content for constructing digital channel – Creative
Web technology is compared to and evolved by the spread of CMS started by HeartCore and the appearance of less positive design. Remarkably, the technique is a legacy and still common about the handling of the advertising production. Environments such as shopping sites, where creativity is the key, different image will be prepared for the same product with different patterns and colors. When it is necessary to prepare a thumbnail image for a different indication point and device separately, how the enormous numerical image files managed effectively becomes a long-term common problem.
By using dynamic imaging techniques, reduction of photography costs, shortening of the reflection time, reduction of the storage space brings merit to the management side. Every image optimization in reading devices, personalization of visitor images, are providing new experience to customers.
Addition of image automatic generation function which is optimized in having many kinds of terminal, enable letter information in images such a personalized technology.
E-commerce is reborn
Online real-time image customization according to user operation, interactive rich image view such as zoom in, rotation, is possible. Especially with shopping sites, the visualization of every product which included custom tailoring is realized, a distinguished introduction effect is provided. This brings merit to the management side. Every Image optimization in reading devices, personalization of visitor images, provides new experiences for customers.
nteractive image operation
In the demos below, the creation of interactive dynamic images, preview function is demonstrated. A novel shopping experience is provided by the E-commerce by this real time and interactive operation. The visualization of every product included the custom tailoring is realized and a distinguished introduction effect is expected.
Customer satisfaction increases more after being able to anticipate the improvement of the customer conversion factor and the drop of return rates by an interactive shopping experience, connections for loyal customer upbringings, such as repeaters. This increases the merit on the management side, photograph what was prepared, the photography cost and the storage space can be largely reduced. The promoting of the efficiency of the process stays until site reflection is improved and is able to spare time for more important projects.
Visual Optimization
Many websites use dynamic serving to provide text contents and it should noted that it's possible to change the contents of images and optimize accordingly. Images which appeal to the users visually can lead to great results. By changing the images to serve dynamically you can achieve following results.
1. Targeting images to individual users - Ads with increased relevance
Banner images are a widely popular way to lead users to a specific website or a different page on the same website and those image banners play a major role in advertising on websites. It's different from simple text links. The banner ads are able to appeal to users with their images and will increase visibility significantly. Even if the images reach the users however, there is little chance for them to click on the banner ads if the contents are not related to them. It's important to note that the relevance is decided instinctively by the users and this usually happens within the first 2 seconds.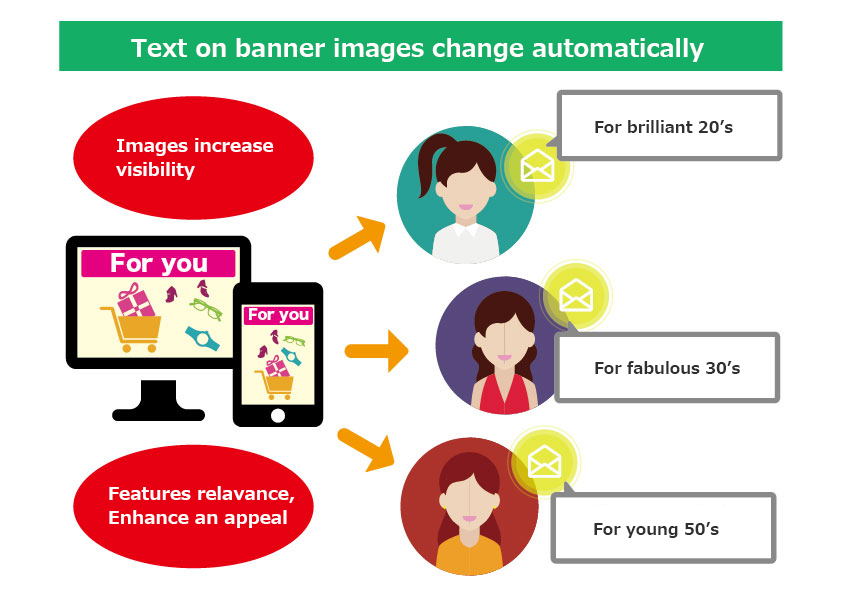 Now, it has become possible to recognize the relevance for each user and this will contribute to economic growth.
2. Personalizing images - email magazine
Although social media and web applications are widely spread nowadays, e-mails are still utilized as a leading one-on-one marketing channel. However, with the variety of available marketing channels, it's becoming more and more difficult to get the desired results. It's crucial to consider new ways to reach users and convince them to read your email magazine. Software such as Outlook and online mail services such as Gmail, have greatly improved in advancing their usability. Many mail magazine and newsletters now use HTML format to send to users. The greatest appeal is, like web pages, these magazines and newsletters can increase their visibility by optimizing the style or image contents. It will increase the chance for the users to "instinctively" read your emails.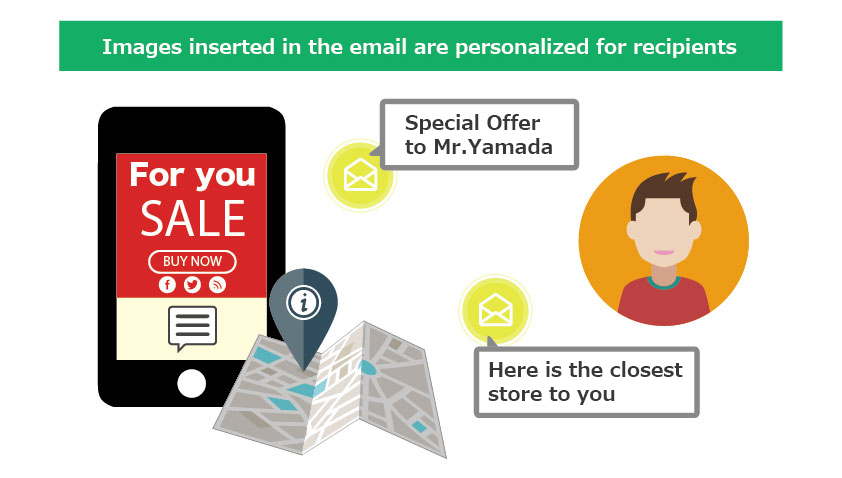 Personalizing the images will increase the appeal of your emails (mail magazines and newsletters). You can expect a dramatic increase in users' click-through rate.
3. Countdown images - Personalized time campaigns
Limited time sales or limited time campaigns are used to prompt users to think, "I should buy it now", or "I can buy it while it's on sale", by setting a time limitation. This tactic has been often used by many businesses including retail industry. Especially when it's possible to accept orders 24/7 anywhere on the net. This means companies can continue their sale throughout the night. This allows the business to also target people who only access the net at night. This type of campaign usually sets a limited time period (ex. from March 10 at 9:00 a.m. to March 12 at 0.00 a.m.) for all users. The period of time available to the user depends on the point in time he finds out about the campaign. Even if it was advertised by email or on social network at the same time, it is all up to the user to actually read the notice. Depending when they find out, it's highly possible for users to miss the opportunity altogether. The solution to this problem is the personalized time campaign. For example, you can set the time frame at 10 hours starting when the user first accesses your website. That will give each user the same amount of time. As time passes, a countdown image will appear on the website and each time users visit your site they will be reminded of their time left.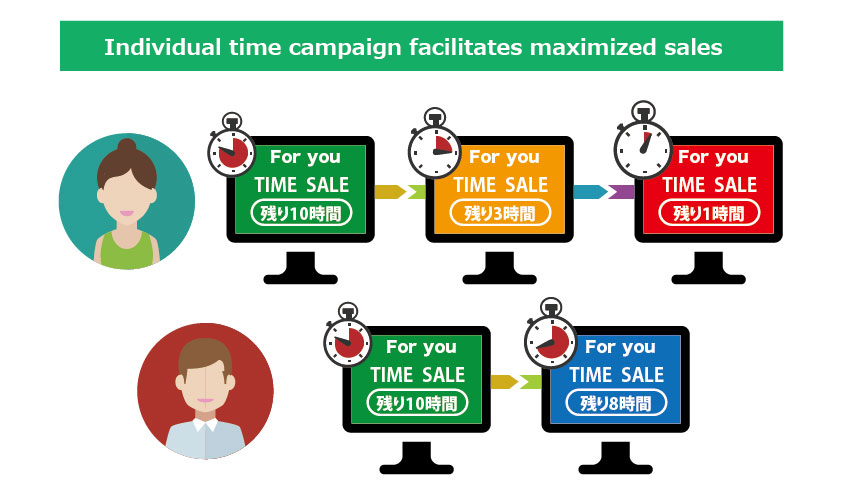 Appealing to users' desire to buy visually will maximize the effect of the limited time campaign.
4. Image variations - A/B test is excellent in measuring productivity
In order to increase the conversion rate, multivariate and A/B tests are used to optimize website layouts, design and headlines, etc. Of course images can be included in the test. They're one of the most important things which determine whether a website is good or bad. However, it's not like changing the color or texts of headline or links. When you need to change the images a graphic designer is required. Often, because of this, images are not included in these tests. Visually appealing images influence the conversion rate significantly. On the other hand, if you consider the result of the test without including images as a good result, then you are being naive. Also, even if something is viewed as the best for a website today, there is no guarantee that it will stay the same one month later. It will always change depending on external factors such as the groups of users and competitors' activities. In addition, while the experience optimization on multi channels is emphasized, testing targets shouldn't be just 1 or 2 pages of the website. You need to test several different patterns according to users' browsing activities and their demographics. Therefore, in order to run the best website, it's necessary to run constant and cross-section testing. This will require many different images. The conventional way to treat the images can set limitations on labor and cost. By dynamic serving the images however, you just prepare one image and it's possible then for the system to create hundreds or thousands of variations of that image.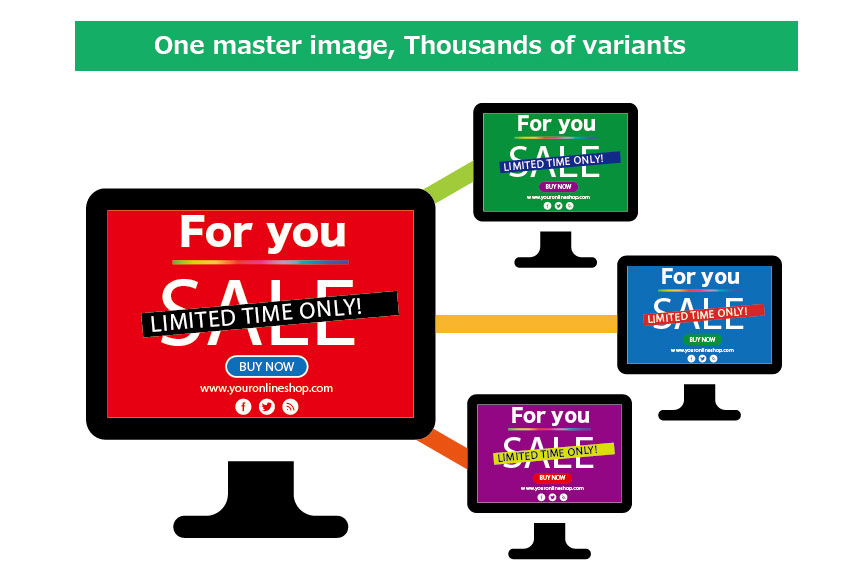 Enhancing the productivity of the test execution results in highly reliable test results and will certainly increase conversion rates.