LiquiFire solutions
LiquiFire dynamic imaging provides a wide variety of solutions such as cost reduction, expansion of business opportunities, improvement of operability and usability, and so on.
The following shows some popular examples of LiquiFire use scenes.
Ecommerce - Operational cost reduction, Productivity enhancement
As the use of internet shopping increases in everyday life, it has become a prerequisite for success to keep a huge number of products up-to-date on the website. At the same time, it is a pain for operators in the aspect of cost and time.
LiquiFire dynamic imaging allows on the fly image generation for all derivative products that have different colors or patterns from a single master image.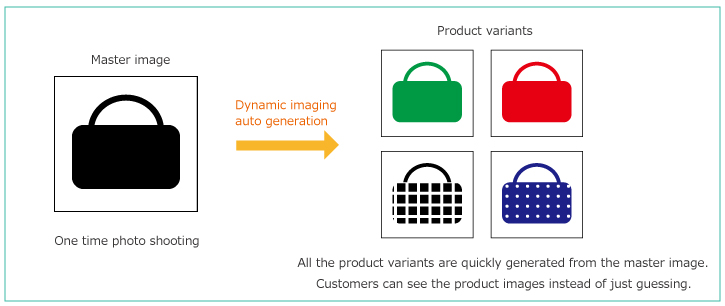 This eliminates the need for shooting photos of all product variants and the time for editing the photos shot, enabling operators to publish products quickly without any cost. Showing the product images to customers, it also help in reducing returns rate.
Product customization - Personalized online order
There are existing services like printing company's name on some goods or a personal picture on t-shirts. In most cases, however, you can see exactly how it looks like only after you have the completed item in your hand. LiquiFire dynamic imaging provides interactive product customization corresponding to customers' manipulation.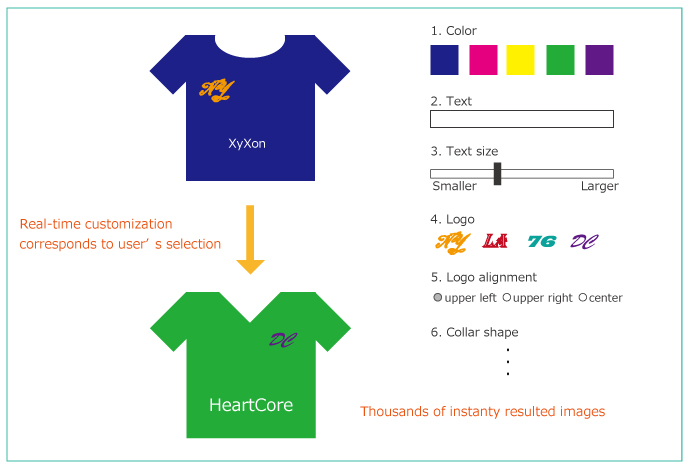 Customers will be able to create and purchase their own customized products online. Not only printing names or color designation but they can also specify the size, shape, material and alignment. This provides customers with exciting shopping experiences, and new business opportunities may be expected.
Campaign management - Effect maximizing
Email advertising campaign has become one of the most common email marketing strategies, and hence some distinctive measures are required to encourage recipients to open your email from dozens of other emails and take actions you expect. LiquiFire dynamic imaging produces a powerful effect on HTML-based emails.

By displaying the recipient's name or offering time-limited sale according to the time your email is opened, you can make them feel connected and excited.
Multi-device optimization - True responsive web
RWD (Responsive Web Design) has brought dramatic improvement in website optimization for multiple devices. However, since each device type has a different screen size and resolution, the same image could be displayed either beautifully or roughly depending on the device. To display adequate images for each device, some tedious procedures are usually required, such as creating multiple images by local tools and loading each image by javascript.
LiquiFire dynamic imaging generates and delivers optimized combination of image size, format and pixel density to each device.

This ensures that your website visitors are always viewing the highest-quality and highest-density images at the fastest possible speed for the device they are using, whether it is desktop or smartphone.