December 3, 2021
Heartcore, Inc.
News Release
Shinagawa-ku established a resident evacuation center experience event,"Emergency Drill With Jijo-kun in VR" by using 3D-VR "VR360".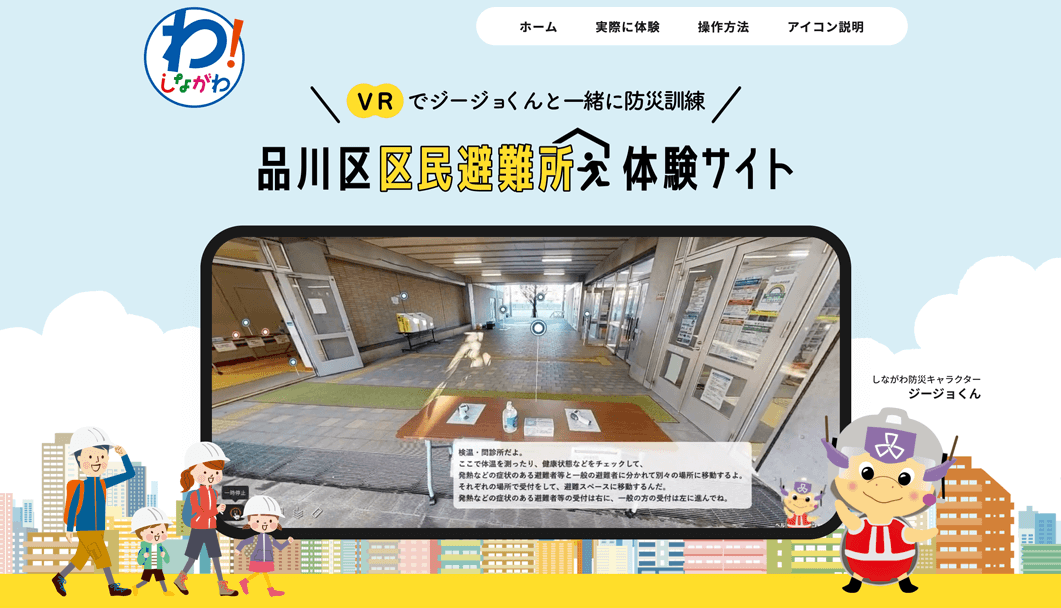 Background to the establishment of the resident evacuation center experience website
In past years, emergency drill was held ward-wide, and residents could learn about the evacuation center by experiencing the establishment, reception, operation of the evacuation center. However, this year, due to the COVID-19. The number of participants was limited to board members, and in some districts the drill was cancelled. In response to this situation, Shinagawa-ku launched the "Emergency Drill With Jijo-kun in VR", a VR-based content to experience the ward evacuation center.
With the opening of "Emergency Drill With Jijo-kun in VR", those who cannot participate in the evacuation center drill can explore the ward's evacuation center in VR and learn the image of an evacuation center, and those who feel that participating in the drill is too difficult or cannot participate due to schedule constraints can casually experience it.
In addition, we expect to raise the profile of the ward-wide emergency drill by attracting attention with the novel content of VR.
About Contents to experience the ward evacuation center "Emergency Drill With Jijo-kun in VR".
We have created a VR model of Shinaga-ku evacuation center for the "Emergency Drill With Jijo-kun in VR" content. In the contents, you can explore the evacuation center with the Shinagawa disaster prevention character "Jijo-kun" and learn the image of the evacuation center by checking the flow of reception and what kind of space is available.
【URL】https://vr360.heartcore.co.jp/shinagawa/bousai.html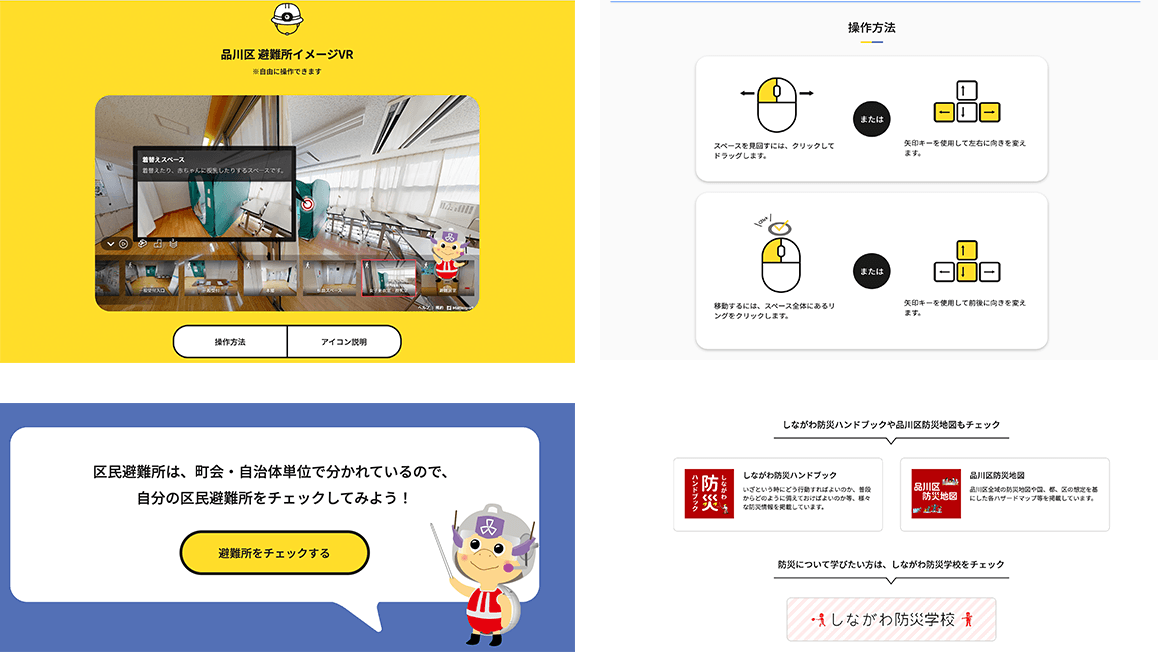 About VR360
VR360 is "spatial imaging" + "original service" + "maintenance".
Facilities captured by Matterport 3D cameras can be effectively utilized on the web.
"This is an unprecedented service" that allows you to embed audio and images and set up links for guidance.
"VR360" was certified as a social contribution product(※) by Shinagawa-ku in 2021.
※The Shinagawa-ku Social Contribution Product Support Project is a project that aims to expand the sales channels of companies in Shinagawa-ku by adopting excellent products of small and medium-sized companies in Shinagawa, promoting them, and supporting their introduction in Shinagawa-ku Office on a trial basis.
VR360 product page from HeartCore, Inc.https://www.heartcore.co.jp/lp/vr360.html
About Heartcore, Inc.
Trade Name:

Heartcore, Inc.

Representative:

President Sumitaka Kanno

Location:

Shirakiji Bldg. 3F, 1-2-33, Higashi-gotanda, Shinagawa-ku, Tokyo

Founded:

June 2009

Description of Business:

Development, sales, and maintenance of various solutions that support digital transformation (DX)
     ■ Development, sales, and maintenance of CMS (content management) and CXM (customer experience management) using digital marketing technology.
     ■ Development, sales, and maintenance of RPA (robotics process automation).
     ■ Sales and maintenance of process mining solutions "myInvenio" and "Apromore".
     ■ Sales and maintenance of CONTROLIO, a task mining solution
     ■ Sales and maintenance of 3D-VR shooting (Matterport) + original service "VR360".

URL  :
For inquiries regarding this release, please contact