Activities
This report displays a time distribution by employee activities, such as applications or websites. It also shows activities by category and productivity level, making it clear which activities are taking up most of your team's time.
Attendance
This report reflects employee activity for a single day and measures productivity during working hours. You can get a detailed view of employee activity for the chosen interval of time. Click on the activity image next to an employee's name to view the percentage of time the employee is resting, working, productive, neutral, or distracting. See exactly what your employees were doing during their active time. You can also set the report's active days and the length of the reporting period.
Categories
You can have a high-level report of activities, grouped into categories. You can quickly see which processes your employees spend their time on. It's visualized with charts, so it's easy to compare Business and Social Networking time spent. You can navigate to Entertainment to see if any blacklisted websites have been viewed.
Users
A comparison of all employees is displayed. See who is most active and who is working away from the computer. Clicking on a username below the graph will take you to the activity report page for the selected user.
Productivity
The Productivity Score measures your team's productivity level. Productivity levels are calculated as a percentage ranging from 0% to 100%. This indicator is calculated by monitoring and measuring your team's active use of applications and websites. The calculation is measured in units of time, which are then categorized in parameters ('productivity levels') that show your team's time as either Very productive, Productive, Neutral, Distracting, or Very distracting.
The indicator is displayed as a percentage. A single click on the parameter heading provides access to a more detailed report on all categories of productivity. For example, you can find out exactly which activities were productive for your team and which were distracting. This allows the team to make informed decisions about how to spend their time.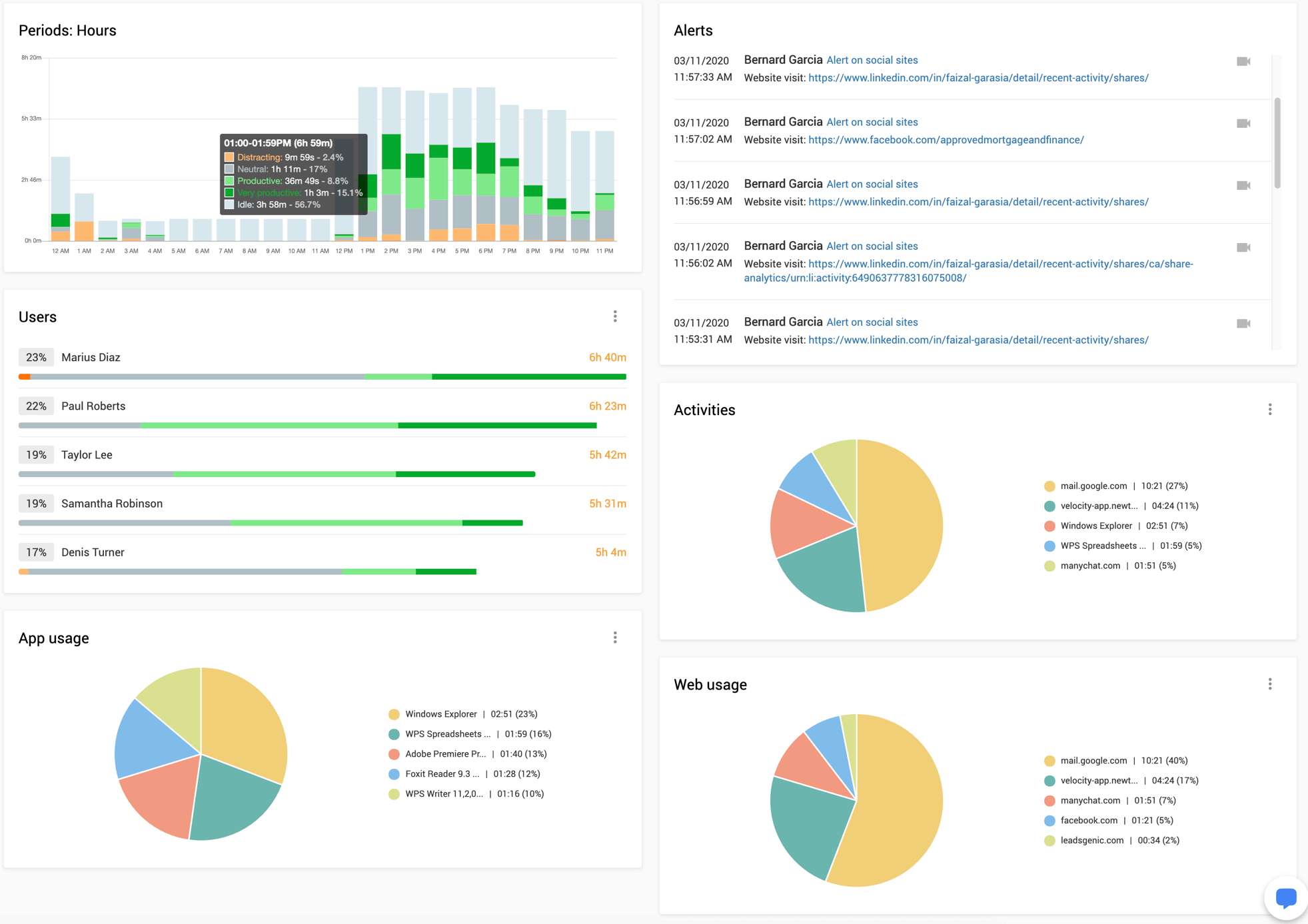 Searches
This report shows search phrases and the search engine name for every user in your organization.
Separate from the web activity, this report is a better tool to pinpoint issues in your company or understand problems in specific tasks.
Files
USB drives have become a major security problem. Taking files to an external storage is also a major problem. The risk is that team members will steal company intellectual property by storing work on a private flash drive. Additionally, one of the most important security measures an organization can take is the need to keep viruses or malware programs out of its IT systems. These malicious computer viruses can easily infect and cause significant damage from email, external storage and the web. The File Report shows all file actions taken by team members on every computer they access. You will know exactly who created, renamed, copied, or deleted a file. To view only flash drive operations and search operations, you can use the Removables checkbox filter to search for paths or file names. All the records are linked with snapshot images or video recordings, so you can find the video fragment of running a certain search request in seconds.
Emails
The email monitoring function helps you understand how productive your team is when it comes to email usage.
The Email report gives you a view of the correspondence productivity per team member. You will be able to see how much correspondence is sent by/to your employees. You can select which team members or sub-departments you need to monitor and the specific period for each report.
Printing
Printing is another risk to the security of the organization's intellectual property. Unmanaged printing can also increase operating expenses and decrease efficiencies. Controlio helps you monitor and manage your team's printing with yet another detailed report that can be pulled off the system. The Printing report lets you see what and how much is being printed by each team member. This can go a long way in helping you curb unnecessary expenditure and increase the security of your team's intellectual property.