Heartcore, Inc.
 Founder and President/CEO Sumitaka Kanno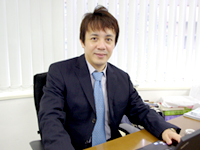 Since our company was founded in 2009, we have been advocating to be the number one company in the CMS market in Japan, and since 2015, we have had the largest market share in Japan for six consecutive years, making us the number one company in Japan in both name and reality.
In 2018, We changed our company name from XyXon, Inc.to HeartCore, Inc., the same as our main product name.
we operate as a wholly owned subsidiary of HeartCore Enterprises in Delaware, USA.
We have two departments, one is the CX department with a 12-year history.The other is DX department which was established four years ago.
The two departments are engaged in business development with the aim of helping enterprise companies reform their digital management.
When I thought about HeartCore CMS in 2007, the CMS market was immature in Japan. It was the beginning of blogging, and building a website required a huge investment of capital.
It was at this point that I was convinced that CMS, with its ability to easily create websites, would be an essential tool for companies in the future.
There are still many companies that have to invest tens of millions of dollars a year to run their websites, and the web market is flourishing, but it was an era where costs were several times higher.
I decided to sell CMS because I felt a sense of crisis that Japanese companies would be left behind in the world if they did not aim to be able to manage their websites without making a huge investment.
The first department I created was the Support Center in Okinawa. Think of it as a sign of my determination. Our goal is to make our customers happy. I will never run away for that. No matter how much projects costs, if the customer is happy, Heartcore will be able to complete them.
"HeartCoreCMS" provided by Heartcore eliminates the image of the previous generation of CMS and becomes an epoch-making product that meets the expectations of users as a completely new CMS. It has been introduced by more than 791 companies in Japan.
"HeartCore" not only provides simple website page management, but also provides functions essential for a company to operate a website in a single product. It covers blogs, social networking sites, Twitter, bookings, wikis, commerce, e-mail delivery, access log management SEO, recommendations, and site ingestion, so you don't have to worry about verifying individual products or their compatibility. "HeartCore" has the flexibility to cover the differences in corporate culture and Web site operations and policies that vary from company to company. I think this is one of the points where HeartCore is recognized by companies in a wide range of industries and business.
Another division, the DX department, was established to help improve the efficiency of the way companies work.
Japan's work efficiency is the lowest among developed countries. It is said that it is 70% of Germany and half of Denmark, if we do not raise the efficiency of working styles, it will remain a huge problem for the Japanese economy.
We decided that the best way to improve efficiency was to change the "inefficient way of working" and "work long hours but did a lot of unnecessary work", so we introduced three products.
Server-side identification, process mining, and desktop identification, task mining to identify the root cause of inefficiency. An RPA that automates routine work.
The RPA is the only RPA in the world that runs on a MAC. Of course, it features a multi-OS RPA that can run not only on MAC but also on Windows, Unix, AS-400 and other servers. It also has three types of OCR. It is natural to build robots in a flow chart style. Programmers can also create robots in a script style, and it is possible to write native Java code. This RPA has been thoroughly pursued for ease of use and has been introduced by 350 companies in the first year of sales.
Process Mining has been a leading company in the process mining industry since its first launch in Japan.
We currently sell and support two types of products : IBM's myInvenio and open source Apromore. We are focusing on an open source strategy that makes it easy for the general public to adopt it and allows mid-sized companies to work more efficiently.
Regarding task mining, there are problems unique to Japan. European and American companies use ERP for most of their operations, and if they can analyze the ERP system, they can identify the problem. In Japan, however, in addition to EPAs, there are many cases where a variety of core systems, scratch systems, and even desktop Excel systems are used for data processing and operation. These are major problems that cannot be solved by process mining alone.
Therefore, I decided to sell task mining because I thought that the Japanese market would not accept it unless I could do something about the parts that process mining could not handle.
By combining data from core systems with data from individual desktops, it is possible to visualize the operations of the entire company and understand problems.
Our strength is to take the market by challenging what no one has done in Japan and what no one has achieved in the world yet.
We are also accelerating our global expansion.
We aim to be the best in the world with the idea that "we are happiness provider."