October 6, 2023
HeartCore, Inc.
News Release
HeartCore launches 'Dashiwake', a service that allows companies to deliver their messages on websites and various devices according to personal attributes, interests and concerns.
HeartCore is pleased to announce the launch of Dashiwake, which uses a customer data platform (CDP) and other technologies to provide companies with different content based on the attributes, interests and concerns of individuals, using customer information held and managed by the company.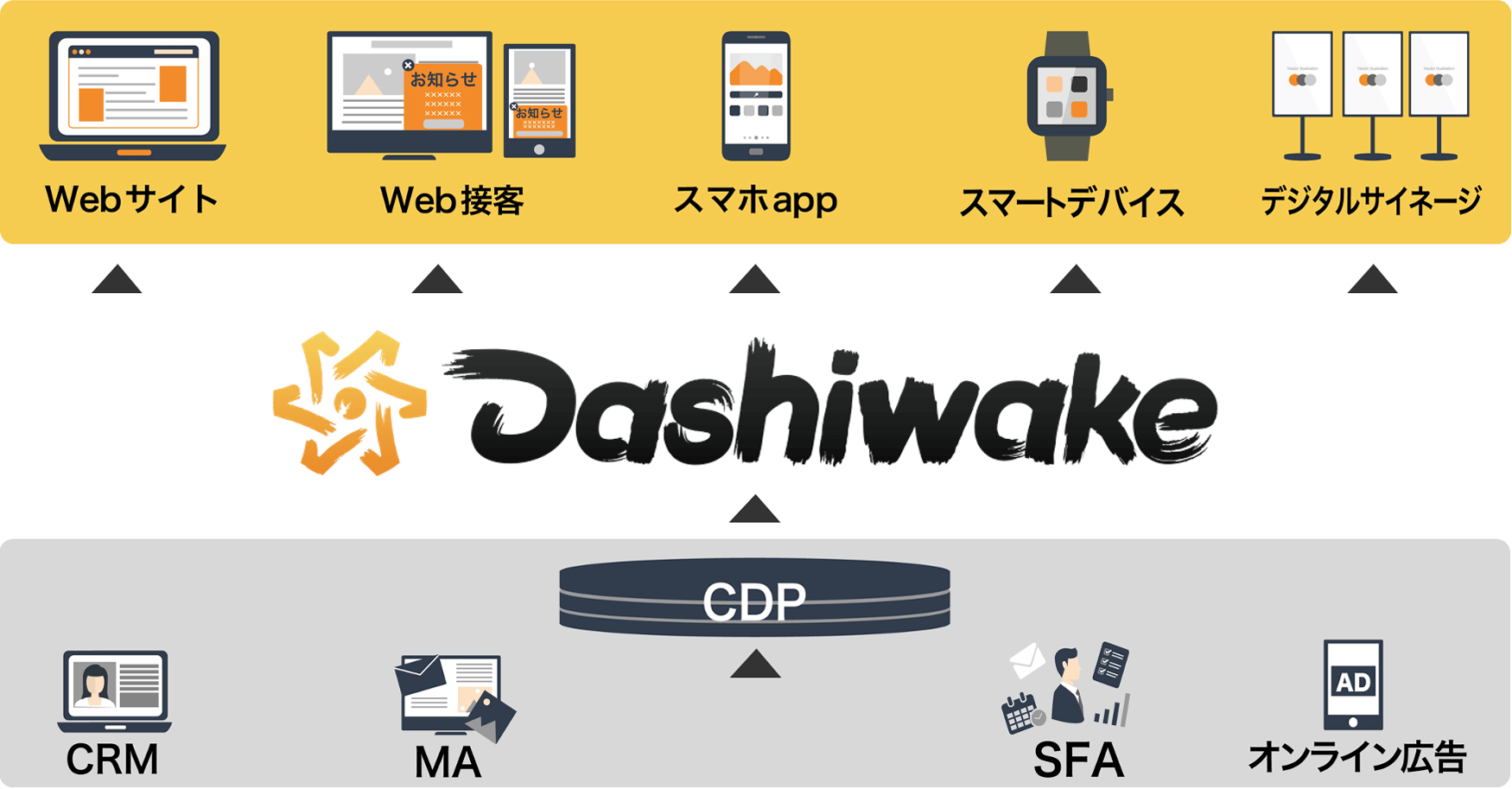 In recent years, due to the regulation of third-party cookies and the global trend towards privacy protection, companies have been holding and managing their own customer information due to the importance of data ownership, but there are many challenges in simply holding and managing this customer information, which can be considered a corporate asset, and not utilising the customer information. Dashiwake is a new way for companies to manage their customer information. Dashiwake" is a service that enables companies to locode content to various devices, such as websites (PCs and smartphones), smartphone applications and digital signage, according to the attributes and interests of users based on the segments of customer information held by the company.
With the large amount of similar information out there, it is not the case that the same information is always displayed no matter who comes at any time, but rather pinpoint information can be posted on any device according to the user's attributes, interests and concerns, enabling stress-free digital communication for visitors.
Dashiwake Details
Main functions: In addition to being able to display content on entire pages or parts of pages, regardless of device, according to the attributes, interests and concerns of the company's users, pop-up banners can be displayed according to the time spent on the web page and scrolling, and recommendations can be displayed according to the viewer's interests and attributes. The system also includes features such as rule-based recommendations, and A/B/n testing, which enables testing of different banners, copy and websites.
Price: Usage fees vary depending on the number of visits to the site. Please feel free to contact us for more information.
URL:https://www.heartcore.co.jp/products/CX/Dashiwake.html
HeartCore will continue to support the development of corporate activities through the development and provision of solutions.
About HeartCore
Trade name  :

HeartCore, Inc.

Representative :

President and Representative Director CEO Sumitaka Kanno

Location :

Shirakiji Bldg. 3F, 1-2-33, Higashi-gotanda, Shinagawa-ku, Tokyo, 141-0022 Japan

Founded  :

June 2009

Business domeins:

Development, sales, and maintenance of various solutions that support digital transformation (DX)
     ■Development, sales, and maintenance of CMS (content management) and CXM (customer experience management) using digital marketing technology
     ■Development, sales, and maintenance of RPA (robotics process automation)
     ■Sales and maintenance of process mining solutions "myInvenio" and "Apromore"
     ■Sales and maintenance of CONTROLIO, a task mining solution
     ■Sales and maintenance of 3D-VR shooting (Matterport) + original service "VR360"
     ■Management Consultant

URL   :
Inquiries about this release