HeartCore Customers
Successful Track Records
HeartCore has been adopted by various types of industries
all over the world.
Customers in Japan
0
plus
Market share
2020, in Japan
Personalize content for each and every individual, Visualize CVR improvement steps
HeartCore enables you to provide the best content optimized for each individual customer by analyzing what website visitors are looking for and expecting. You can also visualize content or link structures that need to be improved for better CVR by utilizing A/B testing and scoring capabilities that HeartCore provides. This drastically streamlines your PDCA cycle.
Learn more about Customer Experience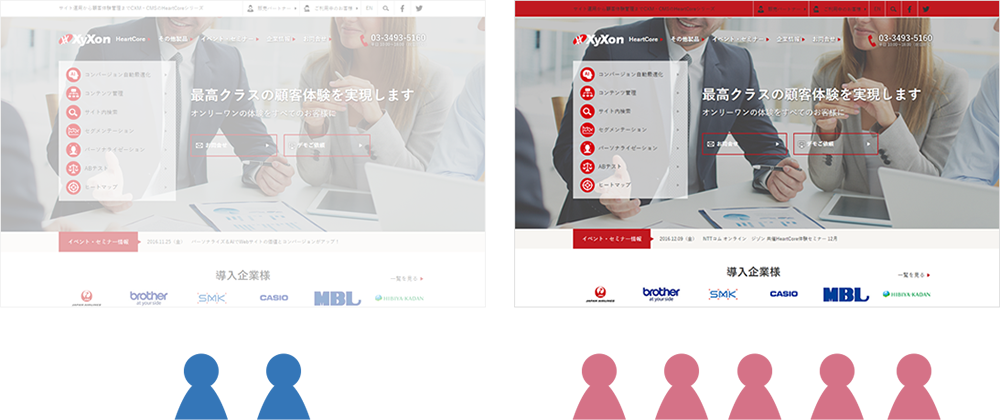 No.1* CMS market share in Japan, Increase operational efficiency with the best quality content management
HeartCore covers all features necessary for enterprise-class CMS including integration with external systems, advanced in-site search and multi-language support with great performance, and has been adopted by a huge number of listed companies as their strategic web platform.
Learn more about CMS
Existing features
HeartCore features
CXM+AI+Campaign
Management realizes
super high-speed PDCA cycle
In addition to the digital marketing features, HeartCore is equipped with AI (Artificial Intelligence) that automatically perform user analysis and A/B testing.
This means you can drastically reduce operational man-hours which is always one of the big problems
when you try to practice web marketing such as personalization.
HeartCore also has a campaign management (marketing automation) capability which enables you to
distribute automated emails and social posts triggered by user behaviors.
Existing PDCA
Plan hypothesis

Analyze segment

Create content

Run A/B testing

Analyze results

Improve content
New PDCA
Create content

Improve content
Operational
man-hours max.
% reduced
What's New
The latest release information and other topics
Our product and service lineup

Contact Us